In my Professional Scrum classes, I always get asked about best practices.  It may be about facilitating events, Product Backlog refinement, defining value, forming Scrum Teams, or creating good Sprint Goals.
No matter the context of the question, my answer always starts the same.
There are no best practices in Scrum.
We are doing complex work and dealing with uncertainty and ambiguity.  Best practices exist when you know exactly what you need to create and the steps to follow to successfully do it.
Scrum Teams must find the practices that work best for them in their context.  They won't even know it was a "best practice" until after they can look back and inspect how it went.
And the practices will need to change over time in order to adapt to change in your product or business direction, the market, technology, the Scrum Team's growth and evolution, and more.
There are many good practices out there.
We teach some in the Professional Scrum courses.  I frequently share stories of practices I've experienced working with Scrum Teams.  Learning about these practices is helpful.  Bringing knowledge and experience from working with other teams is a good thing.  However, don't assume that what worked for one team will work for another team.
The key is to know why you are using a practice.
What problem or opportunity is that practice trying to address?  Perhaps you are trying to create more transparency to progress.  Maybe you are trying to grow skills and knowledge to remove some bottlenecks and reduce risk.  Perhaps you are trying to create more understanding of and alignment to user needs.
When you know why you are using a practice, you can then reflect on whether or not you are getting the desired benefits.  If not, do you need to improve how you are using the practice?  Are there other practices that can help solve the problem?  Or maybe you see an opportunity to change the practice to make it work better for your needs. (Yes, you have permission to do that.)
You will likely need to invent some new practices.
Enabling the benefits of Scrum requires being disciplined and intentional.
Just copying what others are doing might work for a period of time, but at some point, it will likely fall apart.  There is value in going through the mechanics because you can learn from experience.  But you don't want to BE mechanical - just going through the motions.
Professional Scrum is about continuously improving your Scrum practice.
In my classes, I help people explore how they can approach this challenge when they get back to their teams and organizations.  It requires leveraging empiricism and the power of self-organizing teams.  But it's not easy, and there is much to learn and several skills to grow in order to be successful.  This is why my colleague Simon Reindl and I wrote the new book Mastering Professional Scrum.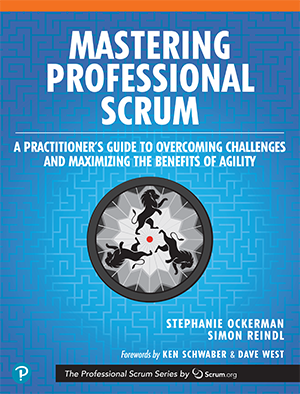 In the new book, we seek to illuminate the key areas that influence every Scrum implementation and offer guidance on how to navigate the complexity in your context.
Yes, we introduce good practices, but we emphasize the why behind the practice so that you can assess your needs.  The book is designed to help Scrum Teams learn through experience and determine the practices that work for them and what capabilities they need to grow to be more effective.
To celebrate the launch of the book, I have put together a free Book Companion Email Series for anyone who purchases the book.  (It's pretty awesome!)