Professional Scrum with Kanban
Live Virtual Class, Oct 7-8, 2021
Course Overview
It isn't about Scrum OR Kanban anymore. It is about how to bring them together effectively. In The Professional Scrum with Kanban™ (PSK) class, Scrum practitioners learn how to define and visualize flow using Kanban together with the Scrum artifacts, limit Work in Process, actively manage and improve the flow in Scrum's events, and what their role would be when it comes to inspecting and adapting the Scrum Team's workflow whether they are Scrum Masters, Product Owners, Development Team members or other stakeholders interested in improving flow in their organization. 
This live virtual PSK class will be delivered by Yuval Yeret, PST at AgileSparks and a Scrum.org Steward for the PSK class. The Class is guaranteed to run!
IS THIS PSK TRAINING FOR ME?
The Professional Scrum with Kanban course is an intermediate/advanced course specifically designed for experienced Scrum Masters, Leaders/Managers and other Scrum practitioners who have a good understanding of the Scrum framework and are interested to learn techniques for improving flow in a Scrum context. 
It is also a good fit for SAFe practitioners looking to improve their team-level practices and Kanban practitioners looking to add the power of Scrum. 
TELL ME MORE. WHAT SHOULD I EXPECT?
Over the 2 days, Scrum practitioners learn how to apply Kanban practices to their work.
Participants will learn flow theory and Kanban principles, play an immersive Kanban simulation, build Kanban boards for their Scrum teams, learn patterns for how to infuse Kanban's thinking and practices into the Scrum events, artifacts, and roles.
There will also be time in class for the Professional Scrum Trainer (PST) to provide coaching on flow challenges that you and your classmates may be experiencing today or may in the future.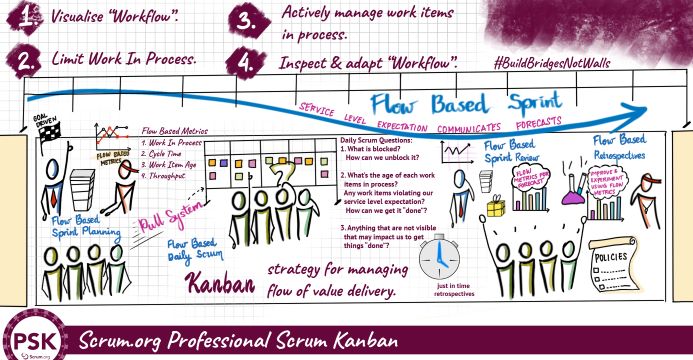 (visual created by Joshua Partogi, PST)
WHAT WILL I GET OUT OF THIS COURSE?
What principles and practices are needed to establish effective flow in a Scrum environment. 

Patterns for adapting Scrum's roles, events and artifacts to improve flow using key Kanban principles

Understanding of the differences and similarities between Scrum and Kanban. 

Key lean/flow metrics used in Scrum with Kanban

Modern estimation/forecasting Techniques 
Price: USD 1495
Early Bird Price: USD 1295 until Oct 1, 2021
Course Details
Taught By
Location
America/New York
More Information
Language: English
ASSESSMENT AND CERTIFICATION
All participants completing the Professional Scrum with Kanban course will receive a password to attempt the Professional Scrum with Kanban (PSK I) assessment. These industry-recognized certifications require a minimum passing score.
WHY SCRUM.ORG TRAINING AND CERTIFICATION?
Scrum.org is run by the co-creator of Scrum, Ken Schwaber. He also maintains the Scrum Guide. The organization is run by folks who eat, sleep and breathe Scrum and it shows in the carefully crafted curriculum and examinations.
It ain't easy. Your Scrum.org certification will hold more credibility with employers because you don't receive it automatically after taking a course. You must pass the certification exam. Your PSK training gives you an excellent shot at achieving certification.
Scrum.org's courseware is uniform and rigorously updated and fine-tuned to ensure every participant receives valuable and actionable training from Professional Scrum Trainers. To be clear, uniform doesn't mean boring! It means quality!
WHY AGILESPARKS
Our lead PSK trainer - Yuval Yeret is one of the creators and stewards of the Professional Scrum with Kanban curriculum. Yuval is helping teams complement Scrum with Kanban since 2009.
Professional Training Network Provider
AgileSparks
Registration