Boris Steiner
Reviews
What students say about Boris
About Boris
Why I care about what I do ...
I love working with people. I love teaching. And I love what people are willing and able to do once their potential is unleashed. This is what keeps my going every day and this is why I found my purpose in what I do!
Boris has the ability to inspire people (Review)
My happiest moments are when everything we do in class or coaching is the beginning of a journey! And for many of those who worked with me, it has been!
Vital Experience in my Scrum journey (Review)
Working as a trainer is more than a job to me. It is the opportunity to leave a ding in the universe. It keeps me constantly improving. And it allows for great conversations, interactions and learning for me as well!
Fantastic and intense class! Highly recommended! (Review)
So let me tell you a little bit more about what brought me to where I am right now ...
What do Underwater Rugby and Agile have in common?
They both are about a hard but fair team sport that requires fast movement, a long breath and especially good teamwork. Beside being a passionate sportsperson I have also been working in IT and product development for the past twelve years and as Agile Coach and Trainer for the past ten. In my courses I convey not only frameworks and good practices, I focus especially on the agile mindset! This not only makes you more effective and goal oriented, it is also a whole lot of fun! And trust me: after attending one of my classes you will have a whole new understanding of agile as well as underwater rugby!
You'll find a lot of information about me on my personal website but for the moment let me give you a sneak peak about who I am and what to expect in my trainings.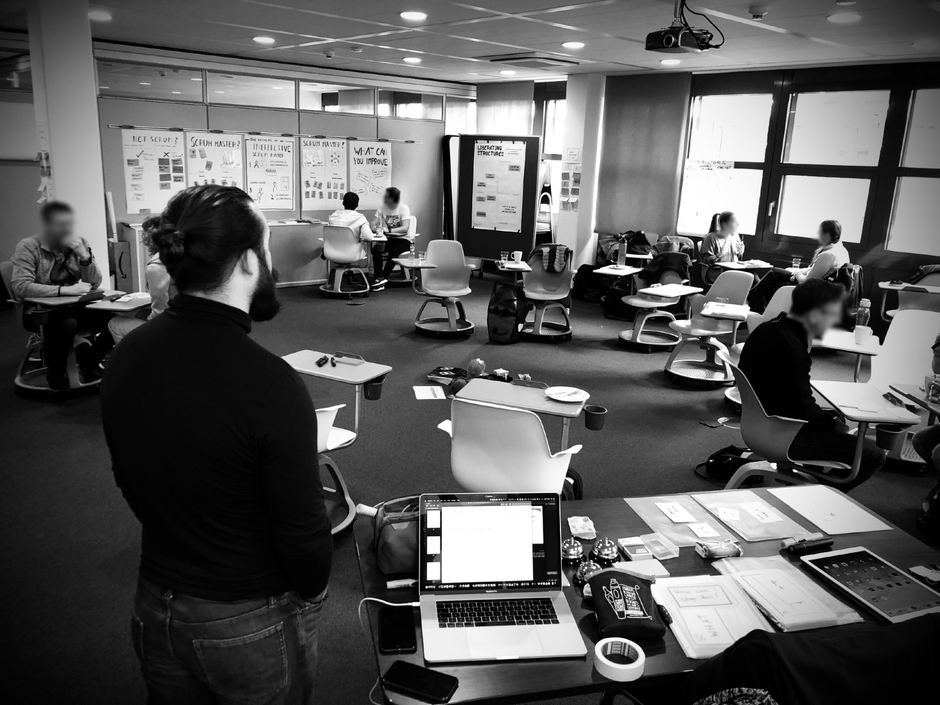 Who I am
I am a freelance agile coach and trainer based in Stuttgart, Germany. My primary field of action is within Europe but since I love engaging with people from all over the world I will also do international and remote training and coaching. My background is in computer science and I have been working in different roles in product development during the last 10 years ranging from Scrum Master, Product Owner, developer, project manager, agile coach, trainer and consultant. What I bring alongside those experiences is a deeply rooted curiosity and willingness to learn and improve. I thoroughly enjoy provoking thoughts in my students and customers. Our relationship shall be one of mutual benefit for improvement no matter if it is only for two days in the classroom or for several weeks or even months in a coaching assignment.
Beside everyday work I try to give back to the agile community be speaking at conferences, writing articles and blogpost and contribution to the German Scrum Guide translation.
Although I love what I do in my career, in my free-time you'll find me traveling the world (especially distant destinations) or enjoying sports (diving, underwaterrugby, football, swimming, skiing, yoga, archery, weightlifting and many more I still need to discover).
How I train
When it comes to acquiring new skills, nothing beats experiencing things for yourself. Therefore you will not witness a lot of purely theoretical input or Powerpoint in my classroom. Be prepared to do a lot of exercises, interactive learning sessions and groupwork. This will lead to knowledge that sticks and is applicable in your everyday work! Most students find that the real learning takes place a couple of days, weeks or even years later and they also benefit long after the training has taken place. This is also the perfect time to get some additional coaching to help you in making further progress.
What I care about
A particular interest of mine is to have a positive impact on the world we are living in. I try to live up to this and make my own personal impact social responsibility as much and as well as possible. This means: If one of the following is true for you, or the organization you are part of I would love to hear more about it. Together, let's understand how we can make your access to the coaching and training I provide an easier path to follow.
You are working in a social impact project.
You are working on critical social issues of our time like the climate crisis.
You are facing a time of personal hardship (e.g. losing your job due to COVID19).
You need help in starting a social / climate / ... startup.
... and other things I might not be aware of!
Get in touch
Further questions? Don't hesitate to be in touch! I am looking forward to work together with you in my trainings and facilitate your very own journey!
Read More
What students say about Boris
Courses taught by Boris
Other Services by Boris
Coaching/Consulting
Immersion Classes
Private Courses
Upcoming Classes by Boris
See all upcoming classes
Latest Blogs by Boris
See all blogs
Boris's Certifications
Professional Scrum Trainer
Professional Scrum Master I
Professional Scrum Master II
Professional Scrum Master III
Professional Scrum Product Owner I
Professional Scrum Product Owner II
Professional Scrum Product Owner III
Professional Scrum Developer I
Scaled Professional Scrum
Professional Agile Leadership I
Professional Agile Leadership - Evidence-Based Management
Professional Scrum with Kanban I
Professional Scrum with User Experience I
Professional Scrum Facilitation Skills