Professional Scrum Foundations
London, Nov 12-13, 2020
Course Overview
Professional Scrum Foundations (PSF) is a 2-day course that provides the foundational knowledge needed to work with Scrum in a highly practical way. The course is a combination of instruction and team-based exercises where students experience how the Scrum framework improves product development efforts.
What You Will Learn
Over the 2 days, students are introduced to the mechanics of Scrum, gaining insights into overcoming complexity, dealing with team based collaboration and self-organization as essential elements in mastering Scrum. Students work together as a team in a series of Sprints to build a software application, thereby facing real-life problems. The mechanics, roles, and principles of Scrum are leveraged during the exercises. From its emphasis on the practical application of Scrum, the course exposes common missteps and misunderstandings so students grow a higher awareness of the associated symptoms. The course provides prescriptive guidance to avoid going off track and keep Scrum healthy.
Professional Scrum Foundations is excellent training for teams and anyone wanting to experience the way of working in Scrum. The course also provides the foundation of knowledge needed for role-focused training for Product Owners, Scrum Masters and Developers.
Who Should Attend
The Professional Scrum Foundations course is the perfect introduction, reboot or refresher to Scrum. This course is for teams or anyone wanting to experience the Scrum way of working. PSF provides the base knowledge needed for anyone interested in taking role focused training. No existing knowledge of Scrum is required to attend.
Course Objectives
Have a clear understanding of the foundational elements of Scrum and their coherence
Be able to take part in a Scrum Team
Effectively deliver valuable software
Leave the class with a handful of tips to identify common pitfalls and dysfunctions
Course Topics
Fundamentals of Scrum
The Scrum Framework
Mastering Scrum
Planning with Scrum
Getting started
Keeping Scrum healthy
Certification & Assessments
All participants completing the Professional Scrum Foundations course will receive a password to attempt the Professional Scrum Master I (PSM I) assessment. The industry-recognized PSM I certification requires a minimum passing score of 85%. PSF class participants who attempt the PSM I assessment within 14 days of receiving their free password and do not score at least 85% will be granted a 2nd attempt at no additional cost.
Frequently Asked Questions
What is included in the price?
The price includes course materials and the PSM I assessment and certification. You will also receive a 40% discount on the PSM II assessment.
How do I achieve the Professional Scrum Master I (PSM I) certification?
The PSM I certification is achieved by taking and passing an online assessment in your own time following the course. It can be taken from any internet-connected computer.
What is required to achieve the Professional Scrum Master I (PSM I) certification?
The PSM I assessment is comprised of 80 multiple choice questions that must be completed in 60 minutes. The pass mark is 85%. The course fee provides up to 2 attempts at the PSM I assessment.
What are the course hours?
Courses start at 09:00 and finish at 17:00 each day.
How many people will attend?
Our courses are kept small to ensure a premium experience.
How should I prepare for the course?
The only preparation required is to read the Scrum Guide.
I'm not sure if I have enough experience to take the course. What should I do?
Email us at Support@TheScrumMaster.co.uk and we will advise you.
Can I claim PMI PDU credits for attending the course?
Yes. You can claim 14 PDU's for attending a course.
Can I pay via credit/debit card?
Yes. Please select the 'Register now and pay via Credit Card' option when you register.
Can I register now and pay via invoice later?
Yes. Please select the 'Register now and pay later via Invoice' option when you register.
Where can I find more answers to common questions?
Visit our full FAQ page for more answers to frequently asked questions.
Where can I contact the trainer with further questions?
You can email us at Support@TheScrumMaster.co.uk
Price: GBP 900
More Information
Language: English
About The Trainer
Simon Kneafsey is a Professional Scrum Trainer with Scrum.org & TheScrumMaster.co.uk. He is on a mission to simplify Scrum for a million people. He has helped 10,000+ people in 1000+ organisations in 35+ countries so far, and he can help you too!
Simon's courses come highly recommended with 300+ personal LinkedIn recommendations.  He is 5 star rated on Trustpilot & Google. His clients include Google, NASA, the United Nations, Toyota, Coca Cola, Microsoft, Lloyds Banking Group, GSK and many, many more. 
Simon has 20+ years of industry experience and has been using Scrum since 2005. He led the development of the Times newspaper iPad app and Dailymail.co.uk. 
He is one of only a few Scrum trainers globally able to offer the full range of Scrum.org courses. He trains and coaches Scrum Masters, Product Owners, Development Teams and organisations in their transition to Scrum and Agile. 
Simon is based in London, UK and offers Scrum training courses with certification all over the world. 
He is happy to provide private training, coaching and consulting for organisations.
Please get in touch to find out more.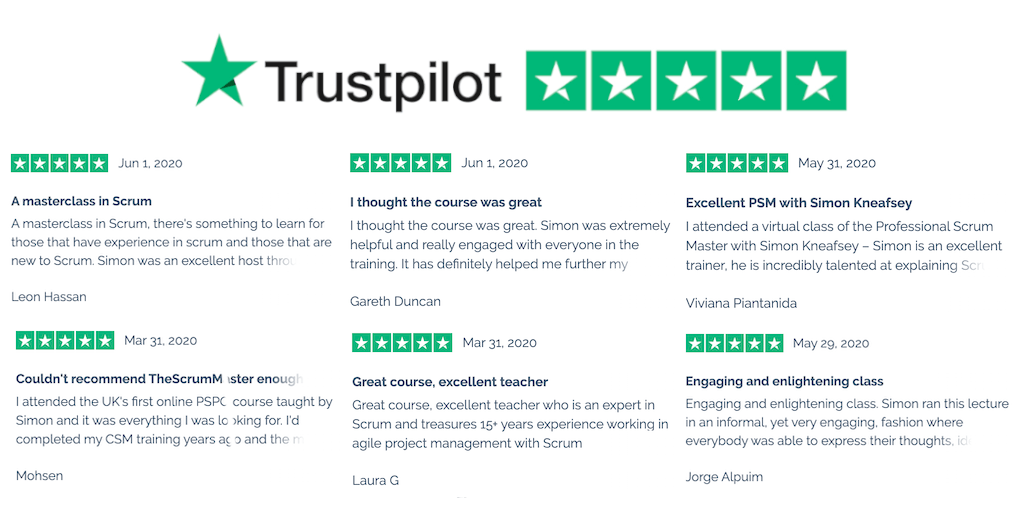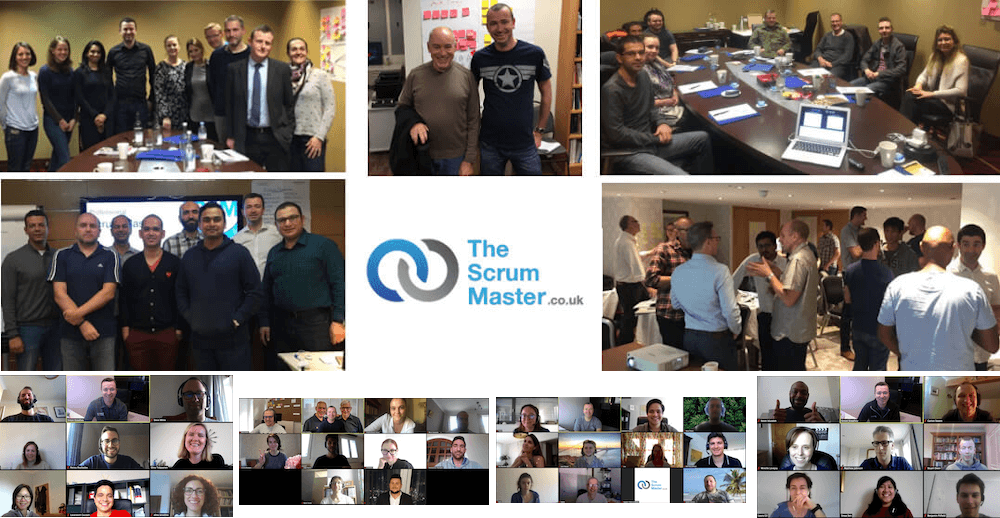 Contact Simon:
Phone:      +44 7547 341 301
Email:       Support@TheScrumMaster.co.uk
Website:   www.TheScrumMaster.co.uk
LinkedIn:  www.linkedin.com/in/simonkneafsey
Venue
Holiday Inn London - Kensington Forum
97 Cromwell Rd,
Kensington,
London,
SW7 4DN,
UK
Professional Training Network Provider
The Scrum Master
Registration