Professional Scrum Master II
Stockholm, May 3-4, 2022
Professional Scrum Master II-kursen är helt och hållet fokuserad på Scrum Master-rollen och är ett utmärkt stöd i en Scrum Masters professionella utveckling. Målet med denna fortsättningskurs är att fördjupa förståelsen för, nyttan av, och förmågan att tillämpa Scrums värden och principer i det dagliga arbetet.
PSM II-kursen hjälper deltagarna förstå de ställningar/ståndpunkter (stances) som är typiska för en effektfull Scrum Master och servant-leader. Vi djupdyker i hur en Scrum Master servar utvecklingsteam, produktägare och den omgivande organisationen. Utmed vägen går vi igenom olika typer och former av praksisar och färdigheter som kan användas för att forma konversationer, öka nytta och värde, och vi ser hur man som Scrum Master tillämpar dem i vardagen.
Vi använder verkliga fall och utmaningar, från riktiga företag, och deltagare förväntas ha minst 18 månaders erfarenhet från Scrum Master-rollen. Med tydlig guidning och reflektion hittar vi steg som hjälper dig bli mer effektfull och framgångsrik som Scrum Master.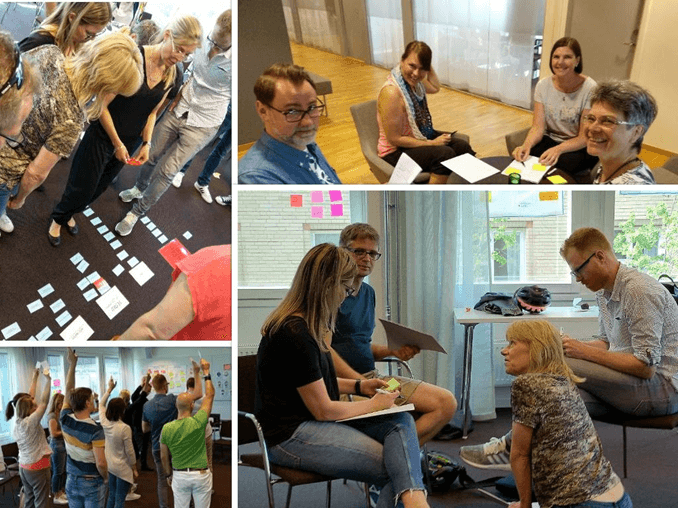 Class Details
Registration & Price
Registration for this class has closed
More Information
Vem ska deltaga?
PSM II-kursen är en fortsättningskurs och antar att deltagarna har erfarenhet från Scrum Master-rollen. Kursen är inte lämplig för den som inte redan är bekant med Professional Scrum eller t ex ej klarat PSM I-testet.
Vad du kommer lära dig
Under de två dagarna kommer vi utforska områden som är kritiska för att växa som en framgångsrik Scrum Master. Detta innefattar hur Scrums principer och värderingar hjälper Scrum Masters i de beslut de fattar, och hur Scrum Master kan hjälpa till att förändra Scrum teamens miljö, vilket skapar förutsättning för agilitet och välmående. Scrum Master-rollen är komplex och ofta måste en Scrum Master kunna tillämpa olika ställningar (stances) för att vara effektfull. Vi kommer titta på …
Scrum Mastern som lärare
Scrum Mastern som coach och mentor
Scrum Mastern som facilitator
Scrum Mastern som förändringsagent
Som Scrum Master är det nödvändigt att kunna identifiera och tillämpa den ställning som – givet den aktuella situationen – skulle gynna ditt team mest.
En del av Scrum Master-rollen är att hjälpa ledningen och andra intressenter i hela organisationen att förstå fördelarna med Scrum och agile. Därför är det absolut nödvändigt att du har den information och bakgrund som behövs för att få trovärdighet för att vara en effektivt förändringsagent.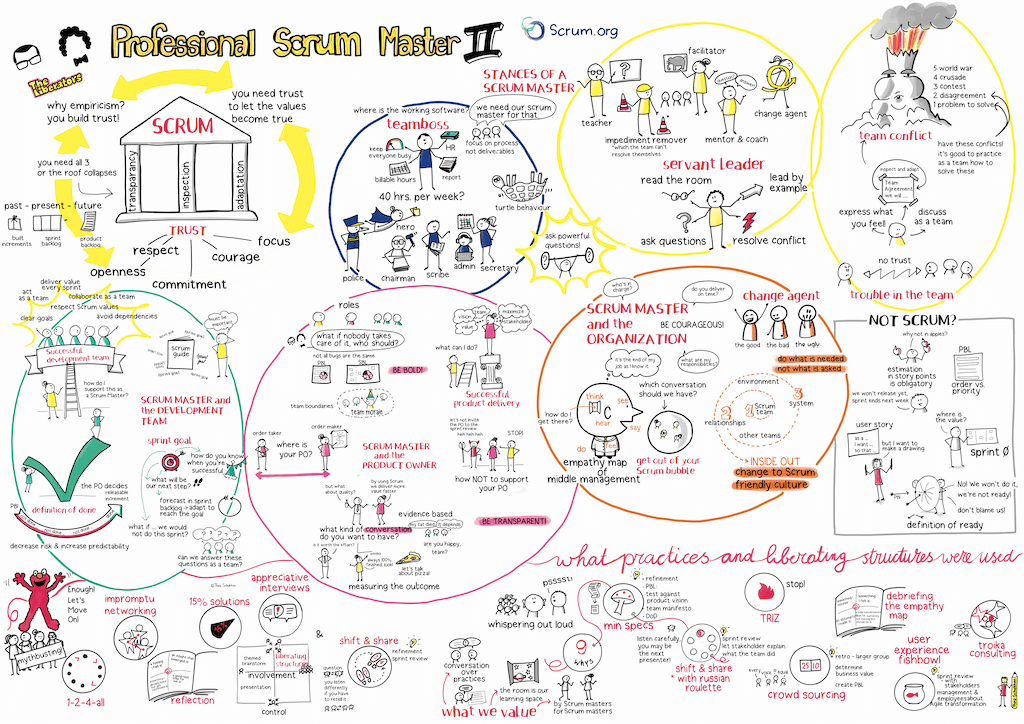 Innehåll
Vi använder inga slides under kursen och det är många övningar och diskussioner. För att deltagarna lättare ska kunna applicera idéerna efter kursen bygger övningarna och diskussionerna på verkliga situationer.
Olika praksisar, tekniker, verktyg, färdigheter samt ställningar som skapar en effektiv Scrum Master
Hur Scrum-principer och -värden guidar en Scrum Master i de utmaningar en ställs in för, och beslut en bör ta
Hur en Scrum Master agerar som servant-leader och hur en utvecklar sin förmåga att verka i denna roll
Vad en Scrum Master kan göra för att stötta och hjälpa utvecklingsteam (Developers) och produktägare (Product Owners) att blir mer effektiva
Olika sätt en Scrum Master kan verka för att ändra omgivningen för att bättre möjliggöra Scrum-team att bli framgångsrika, med hög nivå av agilitet och sunt arbetsklimat
Över 20 färdiga övningar och tekniker som du kan använda direkt efter kursen, i olika nivåer av hela organisationen, för att utveckla nyttan av Scrum och Scrum-team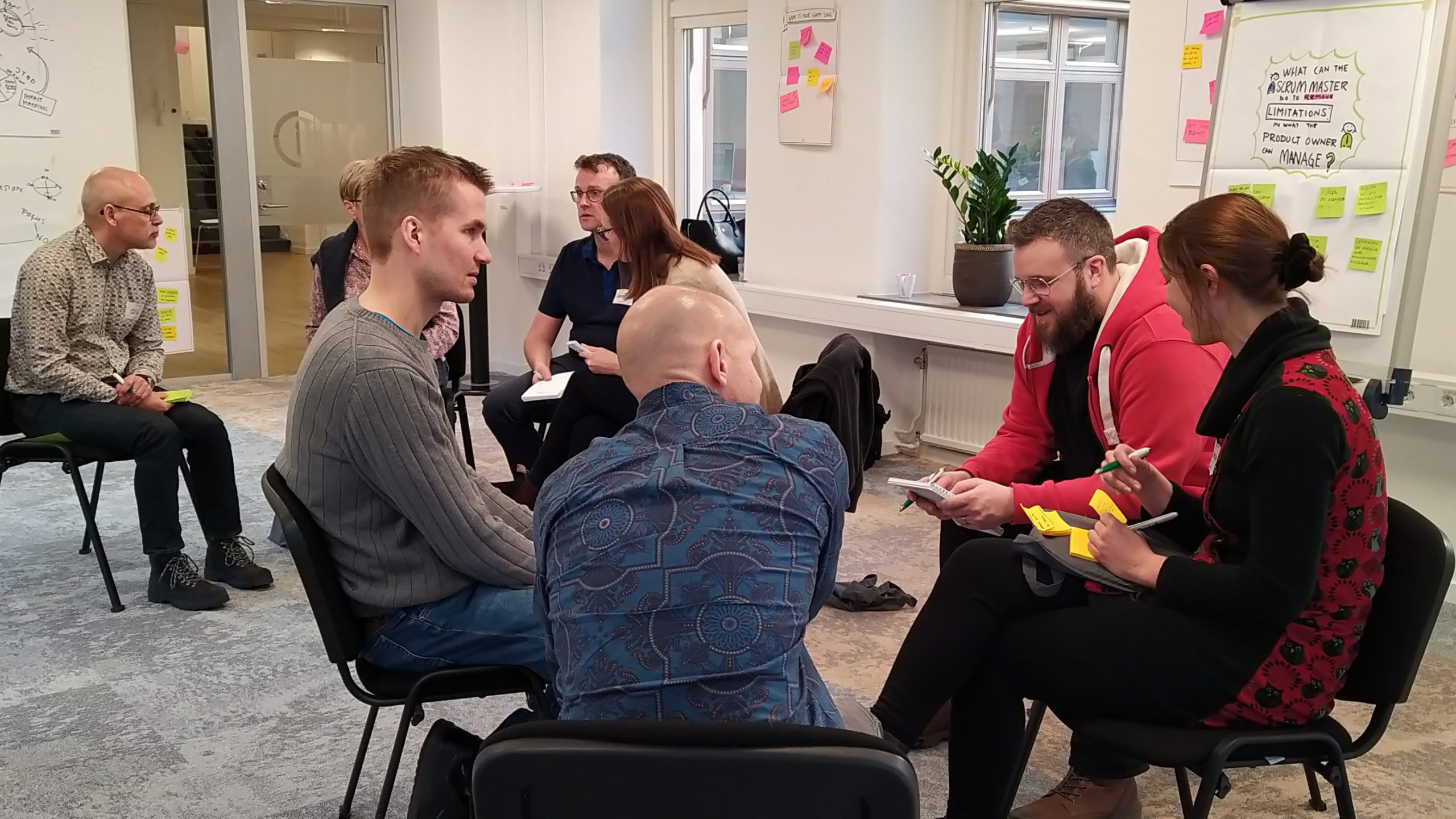 Hur gör vi med Jeffrey?

Vi diskuterar en knepig – men högst realistisk – situation med en team-medlem som inte spelar på samma villkor som alla andra.
Hur hade du valt att agera? Vilka alternativ finns? Hur skulle teamet kunna påverkas?
Hos oss leder Fredrik Wendt samt Björn Persson, certifierade Professional Scrum Trainers, kursen och ser till att allt material passar för oss i Sverige.
Certifiering
Efter kursen får du ett lösenord per mail, och kan sedan göra certifieringstestet PSM II över webben. Testet omfattar 30 frågor (på engelska) som skall besvaras på 90 minuter, och 85 % rätt krävs för att bli certifierad som Professional Scrum Master II. Om du tar testet inom 14 dagar, men inte når 85 %-gränsen, ingår ytterligare ett försök.
I kursen ingår även 40 % rabatt på det mest avancerade certifieringstestet, PSM III.
Rekommendationer
Tidigare deltagare från kursen fick frågan "om du skulle skicka ett meddelande till dig själv, som kom fram innan du gick kursen – vad hade du skrivit?" Nedan följer några typiska svar.
Martin, this course will be a great injection for you. It is a great opportunity to reflect on your knowledge and insights and to gain new together with others. The course itself is not a "death by powerpoint" but a fluent and easy to get involved in type of course. A course that will make you want to learn more, do more and change more.

— Martin Berg, Agile Coach, Squeed
This is a course that emphasize the pillars of Scrum, much focus on how to work as a Scrum Master with the Product Owner and with the Organization. You will also get an introduction and some hands on practice with Liberating Structures.

— Margareta Lundholm, Scrum Master, EVRY Consulting
This course will bring you to next level of Scrum Mastery.

— Daniel Rosin, Jeppesen
If you have practiced as a Scrum Master for a while and would like to discuss different topics about the Scrum Master role with other Scrum Masters, this is the course for you. You will get some ideas and options on what your next step as a Scrum Master could be. You will have several opportunities to reflect on how you do things now and how you think the best way to handle certain situations are. You will get some ideas on what you should stop doing. Several methods for facilitating discussions will be used and you will probably be inspired to use them yourself.

— Annika Aasa, Process Consultant/Scrum Master, Jeppesen
Bakgrund
Venue
Kursen hålls i NFI:s lokaler på Götgatan 14 i Stockholm.