Professional Scrum Master
Madison, November 26-27, 2018
Introduction
Professional Scrum Master (PSM) is a 2-day course that covers the principles and (empirical) process theory underpinning the Scrum framework, the Scrum process and the role of the Scrum Master.
Course Description
Professional Scrum Master is THE cutting-edge course for effective Scrum Masters and anyone supporting a software development team's efficiency and effectiveness.
The Professional Scrum Master class introduces the principles and (empirical) process theory underpinning the Scrum framework. These are foundational insights upon which the rules and roles of Scrum are explored and discussed.
The focus on the Scrum Master role includes advanced thinking tools for servant-leadership and behavioral shifts, working with people and teams, coaching and facilitation, and scaling Scrum.
Scrum.org selects only the most qualified instructors to deliver this course.
Scrum.org maintains the defined curriculum and materials to assure consistency and quality for students worldwide.
Course Topics
Scrum theory and principles

The Scrum framework: roles, rules and artifacts

Working with people and teams

Coaching and facilitation

The role of the Scrum Master
Objectives
Students are challenged to think in terms of Scrum and the Scrum principles to better understand what to do when they return to their workplaces.
Students will have a clear understanding of the mechanics of Scrum and their coherence from the empirical foundation of Scrum.

Students can act as a Scrum Master for Scrum Teams and stakeholders from an in-depth understanding of servant-leadership.

Students can effectively start up Scrum or increase its effectiveness if already underway.
Target Audience
The training may be interesting to all involved in software development using the Scrum framework, but has been specifically conceived for those responsible within an organization for running or introducing Scrum.
The class targets the people within an organization accountable for getting the most out of Scrum, including Scrum Masters, managers, and Scrum Team members.
Format
Students work in teams. They learn through team assignments, discussions and hands-on exercises.
Assessment and certification
The Professional Scrum Master course has two associated credentials: Professional Scrum Master level I (PSM I) and Professional Scrum Master level II (PSM II).
All participants completing the Professional Scrum Master course receive a password to take the PSM I assessment and are entitled to a discount on the PSM II assessment.
These industry-recognized certifications require a minimum passing score on the associated rigorous assessment. Scrum.org maintains a public list with everyone holding a PSM I and PSM II credential.
Instructors
Chad Beier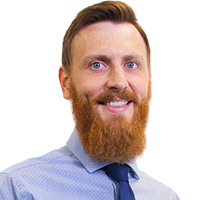 I work with all levels of the organization to optimize your business to respond to change. I am passionate about moving organizations and people closer to agility.
My first experience with "agile", Scrum specifically, was in 2005. I was part of a global transformation team responsible for software customizations driven by a global consolidation of accounting software. We ran into typical implementation challenges and organizational impediments.
Around 2012, my passion for lean, agile, and continuous improvement grew. I left my traditional business analyst and project manager roles behind and evolved into an internal change agent kickstarting an agile transformation. Now in an advising role as an external change agent across many organizations, I promote organizational agility and positive pressure for change.
Jeff Bubolz
I am a speaker, trainer, and agile coach. I have been a Product Owner, Scrum Master and Development Team member.  I have worked with enterprise companies to small start-ups. While working with many teams across many companies I have found that most problems are not technology problems, but are organizational structure, process, and people problems.  As a trainer I bring storytelling, a broad array of experience, and collaborative approach to teaching. 
I take a practical approach to teaching and coaching organizations how to respond to change and gain organizational agility.  I love teaching and using Scrum, but use many other tools in the agile toolbox when the situation calls for it.
Questions?
Email training@whiteboardconsulting.org
Class Details
Delivery Method
Location:
Madison, WI, United States
Registration
Registration for this class has closed