Professional Scrum Product Owner - Advanced
Live Virtual Class, Jul 6-7, 2020
Course Overview
The Product Owner's role is multifaceted, requiring the practitioner to engage in behaviors and adopt mindsets beyond the core of Agility and the Scrum Framework. This course surfaces these behaviors by challenging the student to adopt several different Product Owner stances:
Customer Representative – focused on understanding customer problems, challenges and potential opportunities
Visionary – communicating the vision, future state and possibilities in ways that foster common understanding
Experimenter – focusing on innovation, hypothesis testing and validating potential value to spark product innovation
Influencer – communicating with and influencing stakeholders, customers and the Scrum Team to act with common purpose
Collaborator – seeking input, ideas and feedback from others
Decision Maker – focusing on creating maximum impact by making clear choices and decisions
This 2-day Professional Product Owner – Advanced (PSPO-A) course focuses on helping experienced practitioners expand their ability to establish a solid vision, validate their hypotheses, and ultimately deliver more value to their stakeholders. It is intended for Product Owners who are looking to grow their knowledge and abilities.
This course is an interactive, experiential workshop where attendees explore topics through a series of exercises and discussions. Students should have at least one year of Product Owner experience and practical knowledge of Scrum in order to participate in and benefit from these exercises.
Who Should Attend
The Professional Product Owner-Advanced course is an advanced course specifically designed for Product Owners and product managers who have practical experience managing or owning a product.
It is also beneficial to Scrum Masters and stakeholders who work with Product Owners. It is particularly beneficial for those with at least one year of building products with a Scrum Team.
Course Objectives
Students are provided with a clear path to moving forward in their Product Owner journey through an exploration of the different stances a Product Owner takes.
Students learn about the various types of stakeholders that Product Owners represent and how to best work with them.
Students will gain a better understanding of how to use vision, value, and validation to create a competitive advantage for any product.
Students are introduced to modern complementary practices through discussions, case studies, and exercises.
Course Topics
Understanding your products
Who are your customers?
Connecting product features to customer outcomes
Communicating the product vision and strategy
Value and pricing models
Innovation and experimentation
Stakeholders and stakeholder management
Agile governance, budgeting and contracting in relation to Scrum
Scaling the Product Owner role
Certification & Assessments
All participants completing the Professional Scrum Product Owner - Advanced course receive a password to take the PSPO II assessment and are entitled to a discount on the PSPO III assessment. The industry-recognized PSPO certifications require a minimum passing score on these rigorous assessments.
Frequently Asked Questions
What is included in the price?
The price includes course materials, the PSPO II assessment, lifetime certification from Scrum.org and a 40% discount on the PSPO III assessment.
How do I achieve the Professional Scrum Product Owner II (PSPO II) certification?
The PSPO II certification is achieved by taking and passing an online assessment in your own time following the course. It can be taken from any internet-connected computer.
What is required to achieve the Professional Product Owner II (PSPO II) certification?
The PSPO II assessment is comprised of multiple-choice questions that must be completed in 60 minutes. The pass mark is 85%. The course fee provides up to 2 attempts at the PSPO II assessment.
What are the course hours?
Courses start at 09:00 and finish at 17:00 each day.
How many people will attend?
Our courses are kept small to ensure a premium experience.
How should I prepare for the course?
The only preparation required is to read the Scrum Guide.
I'm not sure if I have enough experience to take the course. What should I do?
Email us at Support@TheScrumMaster.co.uk and we will advise you.
Can I claim PMI PDU credits for attending the course?
Yes. You can claim 14 PDU's for attending a course.
Can I pay via credit/debit card?
Yes. Please select the 'Register now and pay via Credit Card' option when you register.
Can I register now and pay via invoice later?
Yes. Please select the 'Register now and pay later via Invoice' option when you register.
Where can I find more answers to common questions?
Visit our full FAQ page for more answers to frequently asked questions.
Where can I contact the trainer with further questions?
You can email us at Support@TheScrumMaster.co.uk
Price: GBP 1295
More Information
Language: English
About The Trainer
Simon Kneafsey is a Professional Scrum Trainer with Scrum.org & TheScrumMaster.co.uk. He is on a mission to simplify Scrum for a million people. He has helped 10,000+ people in 1000+ organisations in 35+ countries so far, and he can help you too!
Simon's courses come highly recommended with 300+ personal LinkedIn recommendations.  He is 5 star rated on Trustpilot & Google. His clients include Google, NASA, the United Nations, Toyota, Coca Cola, Microsoft, Lloyds Banking Group, GSK and many, many more. 
Simon has 20+ years of industry experience and has been using Scrum since 2005. He led the development of the Times newspaper iPad app and Dailymail.co.uk. 
He is one of only a few Scrum trainers globally able to offer the full range of Scrum.org courses. He trains and coaches Scrum Masters, Product Owners, Development Teams and organisations in their transition to Scrum and Agile. 
Simon is based in London, UK and offers Scrum training courses with certification all over the world. 
He is happy to provide private training, coaching and consulting for organisations.
Please get in touch to find out more.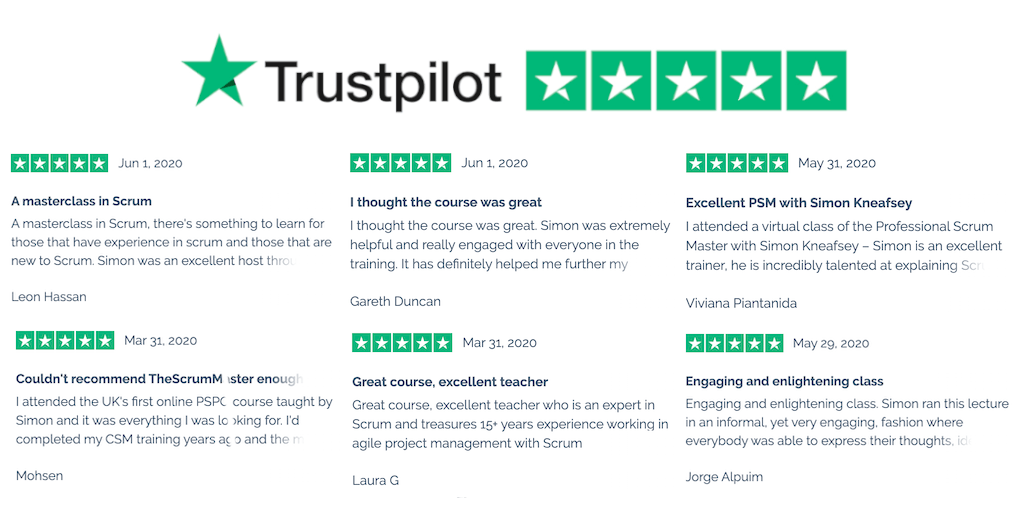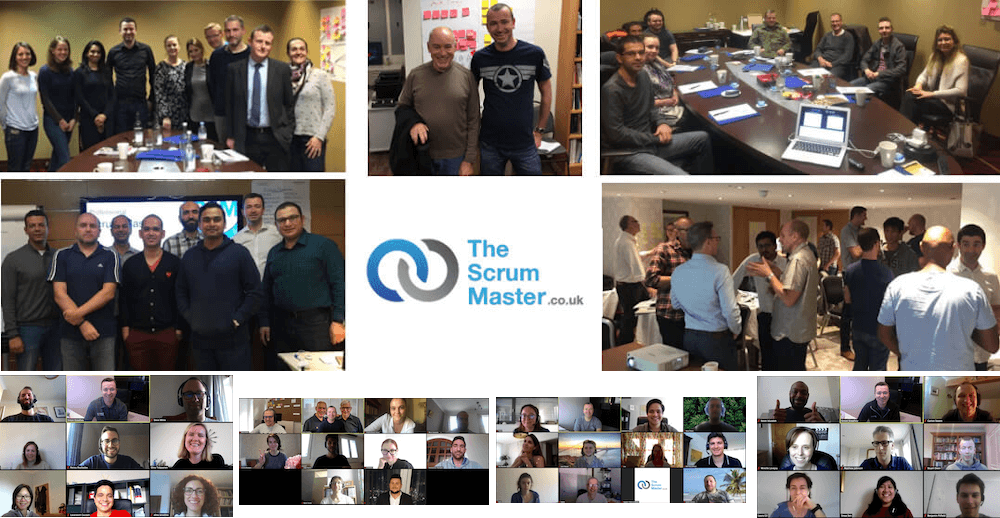 Contact Simon:
Phone:      +44 7547 341 301
Email:       Support@TheScrumMaster.co.uk
Website:   www.TheScrumMaster.co.uk
LinkedIn:  www.linkedin.com/in/simonkneafsey
Venue
This will be a Live Virtual Remote/Online Class. Find out more here:
https://www.thescrummaster.co.uk/live-virtual-class-lvc/
Class hours will be 09:00-17:00 in the time zone listed above.
 Full details on how to participate will be sent to you by email shortly before the class.
Live Virtual Class Requirements:
– Computer with an internet connection.
– Microphone and Speakers.
– Webcam
– Free install of Zoom.us
– We can assist you with the set up in the days before the class if required.
– The trainer will be available for 30 minutes each day before the course starts to offer any technical assistance required.
Professional Training Network Provider
The Scrum Master
Registration