Scaled Professional Scrum
Live Virtual Class, Mar 18-19, 2021
Course Overview
Scaled Professional Scrum (SPS) with Nexus is a 2-day course that is designed as an experiential workshop where students learn how to scale Scrum using the Nexus Framework. Throughout, you are introduced to the artifacts and events within the framework, the new Nexus Integration Team role, along with more than 50 associated practices.
What You Will Learn
Over the 2 days, students will simulate a large software development project using the Nexus Framework. The workshop is delivered using an end-to-end case study where students work together to organize and simulate a scaled software development project. Throughout the workshop, students will be introduced to more than 50 practices that can be used to help reduce complexity and dependencies at scale.
The workshop will provide students with an understanding of how to launch, structure, staff, and manage a large Agile project using Scrum. Throughout the workshop, students will learn the infrastructure, tools and practices needed to successfully scale Scrum to maximize the value of their software development initiative.
By taking a hands-on approach, students are fully engaged in the learning process where they see first-hand the challenges in large-scale development initiatives and solutions for getting the work back on track. They will leave the workshop with techniques to detect irregularities and how to address them appropriately.
Who Should Attend
The Scaled Professional Scrum course is recommended for development leads, development managers, project/program managers and anyone else involved in coaching, formulating, participating in or managing scaled product development projects using Agile and Scrum.
Course Objectives
Learn how to Scale Scrum using the Nexus framework
Learn how to overcome challenges in large-scale development initiatives
Keep development initiatives on track
Experience organizing several teams working on the same product
Optimize team productivity
Understand how to identify, minimize and remove dependencies
Course Topics
Scaled Scrum is still Scrum
Introduction to the Nexus Framework
New role, artifacts and events
Organizing teams & work
Managing the Nexus & Nexus+™
Dealing with common challenges
Practices to help teams efficiently build an integrated software product
Certification & Assessments
All participants completing the Scaled Professional Scrum course will receive a password to attempt the Scaled Professional Scrum (SPS) assessment. SPS class participants who attempt the SPS assessment within 14 days of receiving their free password and do not score at least 85% will be granted a 2nd attempt at no additional cost. The industry-recognized SPS certification requires a minimum passing score of 85% and involves an understanding of the Nexus Framework, knowledge from the course and of Scrum.
Frequently Asked Questions
What is included in the price?
The price includes course materials and the SPS assessment and certification.
How do I achieve the Scaled Professional Scrum (SPS) certification?
The SPS certification is achieved by taking and passing an online assessment in your own time following the course. It can be taken from any internet-connected computer.
What is required to achieve the Scaled Professional Scrum (SPS) certification?
The SPS assessment is comprised of multiple-choice questions that must be completed in 60 minutes. The pass mark is 85%. The course fee provides up to 2 attempts at the SPS assessment.
What are the course hours?
Courses start at 09:00 and finish at 17:00 each day.
How many people will attend?
Our courses are kept small to ensure a premium experience.
How should I prepare for the course?
The only preparation required is to read the Scrum Guide and the Nexus Guide.
I'm not sure if I have enough experience to take the course. What should I do?
Email us at Support@TheScrumMaster.co.uk and we will advise you.
Can I claim PMI PDU credits for attending the course?
Yes. You can claim 14 PDU's for attending a course.
Can I pay via credit/debit card?
Yes. Please select the 'Register now and pay via Credit Card' option when you register.
Can I register now and pay via invoice later?
Yes. Please select the 'Register now and pay later via Invoice' option when you register.
Where can I find more answers to common questions?
Visit our full FAQ page for more answers to frequently asked questions.
Where can I contact the trainer with further questions?
You can email us at Support@TheScrumMaster.co.uk
Price: GBP 1295
More Information
Language: English
About The Trainer
Simon Kneafsey is a Professional Scrum Trainer with Scrum.org & TheScrumMaster.co.uk. He is on a mission to simplify Scrum for a million people. He has helped 10,000+ people in 1000+ organisations in 35+ countries so far, and he can help you too!
Simon's courses come highly recommended with 300+ personal LinkedIn recommendations.  He is 5 star rated on Trustpilot & Google. His clients include Google, NASA, the United Nations, Toyota, Coca Cola, Microsoft, Lloyds Banking Group, GSK and many, many more. 
Simon has 20+ years of industry experience and has been using Scrum since 2005. He led the development of the Times newspaper iPad app and Dailymail.co.uk. 
He is one of only a few Scrum trainers globally able to offer the full range of Scrum.org courses. He trains and coaches Scrum Masters, Product Owners, Development Teams and organisations in their transition to Scrum and Agile. 
Simon is based in London, UK and offers Scrum training courses with certification all over the world. 
He is happy to provide private training, coaching and consulting for organisations.
Please get in touch to find out more.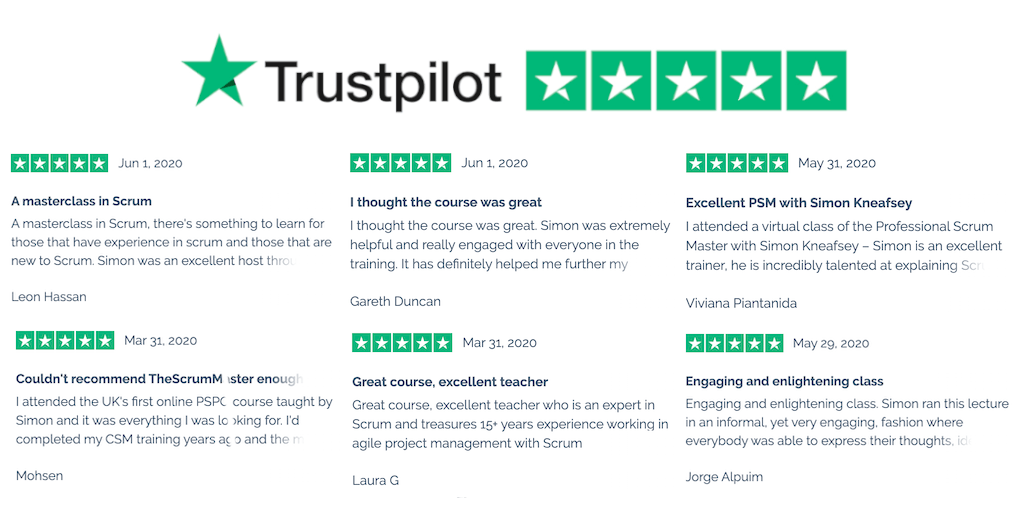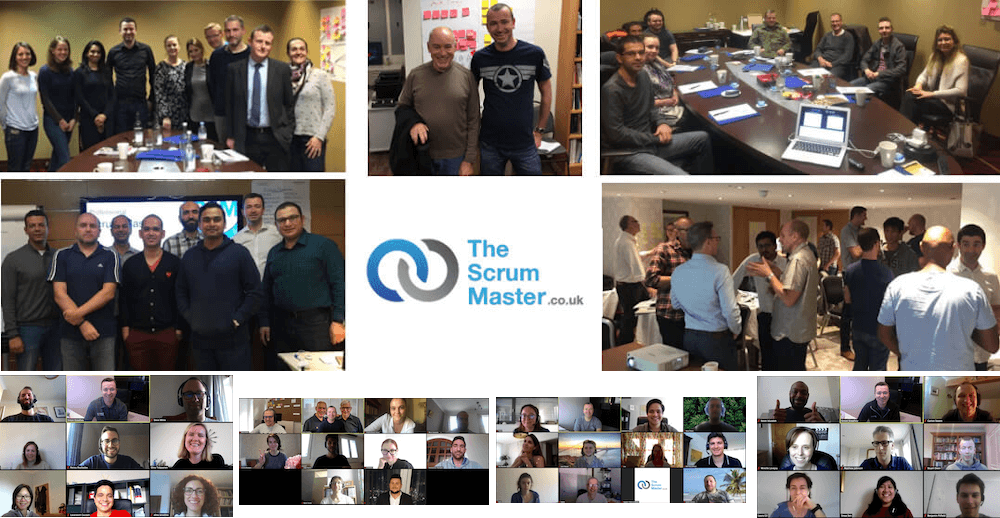 Contact Simon:
Phone:      +44 7547 341 301
Email:       Support@TheScrumMaster.co.uk
Website:   www.TheScrumMaster.co.uk
LinkedIn:  www.linkedin.com/in/simonkneafsey
Venue
This will be a Live Virtual Remote/Online Class. Find out more here:
https://www.thescrummaster.co.uk/live-virtual-class-lvc/
Class hours will be 09:00-17:00 in the time zone listed above.
Full details on how to participate will be sent to you by email shortly before the class.
Live Virtual Class Requirements:
– Computer with an internet connection.
– Microphone and Speakers.
– Webcam
– Free install of Zoom.us
– We can assist you with the set up in the days before the class if required.
– The trainer will be available for 30 minutes each day before the course starts to offer any technical assistance required.
Professional Training Network Provider
The Scrum Master
Registration
Registration for this class has closed