Subscribe to our blog by signing up for the Scrum.org newsletter, or by subscribing to the RSS feed.
May 23, 2020
¿Cómo hacer un User Story Mapping?
User Story Mapping permite a los gerentes de producto, desarrolladores y diseñadores poner un método detrás de la continua complejidad del diseño del producto y crear una experiencia de usuario (UX) increíble.
La técnica fue introducida originalmente por Jeff Patton (Product Design Coach) como un cambio de pensar en las características a los usuarios y sus necesidades.
El poder de contar historias es una excelente manera de asegurarse de que su equipo tenga una comprensión compartida de qué construir y por qué.
Además, esta técnica proporciona una imagen mucho mejor visual que un Product Backlog
En este video verás cómo realizar un User Story Mapping guiado.
Pero hay una mejor manera de dar sentido a tu product backlog, priorizar lo que debe hacerse y mantener la visión del producto más amplia al frente y al centro.
El mapeo de historias de usuario es un ejercicio simple y colaborativo que lo ayuda a definir el viaje de su usuario con su producto, dónde existen vacíos y qué podría ser.
En otras palabras, es una forma de salir del purgatorio de priorización de funciones y, en cambio, mantener las necesidades de los usuarios y los casos de uso reales al frente y al centro.
Estos mapas de historias muestran flujos de trabajo reales. En lugar de priorizar todas las historias de usuarios más pequeños, los mapas de historias permiten ver todo dentro del contexto de sus objetivos comerciales generales.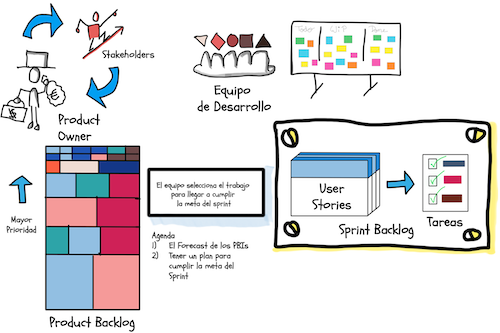 Esta práctica te ayuda a facilitar este proceso